A Touch of Type – From Cypher to Code
This interactive installation is inspired by the history, practice and future of Braille. It invites us to think about writing as a code and a system for
diversity in communication.
Please do touch! @dialogmuseum #ATouchOfType
The interactive installation can be discovered at the DIALOGMUSEUM from April 27 to July 22, 2023. Admission free of charge.
A cooperation project of the DIALOGMUSEUM Frankfurt, the Institut Designlabor Gutenberg / Hochschule Mainz and DIALOG IM DUNKELN – Verein zur Förderung der Sozialen Kreativität Frankfurt E.V..
With the kind support of the Kulturamt Frankfurt
the Hochschule Mainz and the Stiftung Polytechnische Gesellschaft.
Guided tours with curator Klara Kletzka: Wednesday 5.7.23 / 12.7.23 / 19.7.23 at 16:30.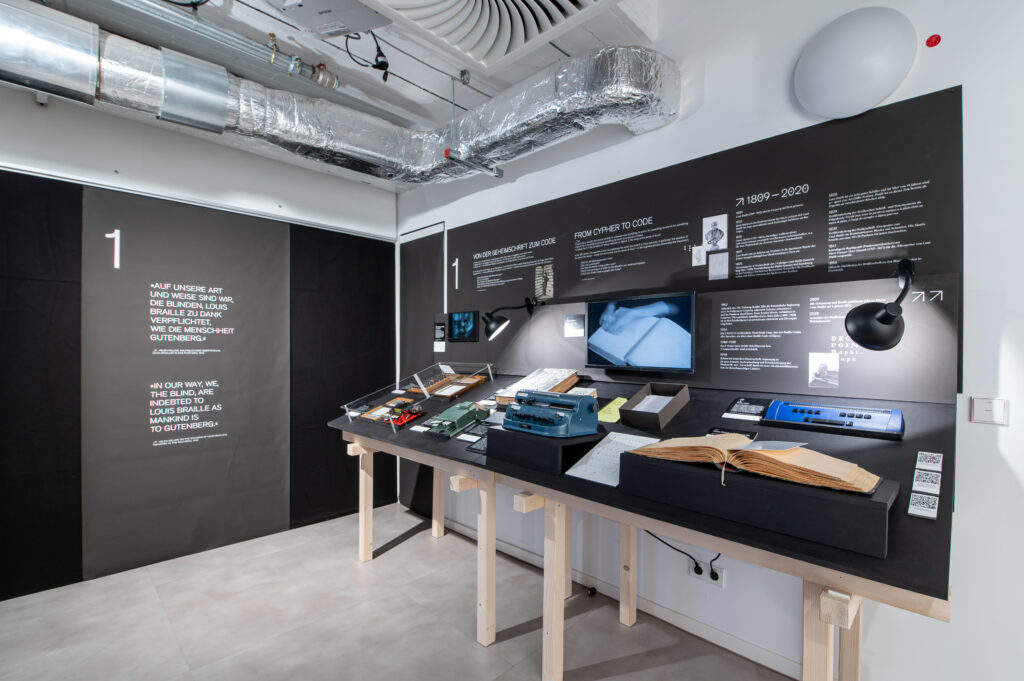 Imprint
Curators: Klara Kletzka, Dr. Isabel Naegele
Concept: Dr. Isabel Naegele
Press & Editing: Laura Margielsky
Museum education: Annika Frey, Gabriela Spreda
Realization media installations: Meso Digital Interiors, www.meso.design
Software & project management: Max Wolf, Bettina Braun (technology)
Video and audio recording: Constantin Urban, Max Mittelstädt (assistance)
Installation structures: Modellbauwerkstatt Hochschule Mainz, Mathias Ewald
Printing: Werkstatt Druck & Papier der Hochschule Mainz, Marco Moll
Installation graphics: Dr. Isabel Naegele, Stephanie Kaplan
Animations: Saehyeen Shin
Lenders: Blinden und Sehbehindertenbund in Hessen e.V. (BSBH), Dr. Andreas Heinecke, Frankfurter Stiftung für Blinde und Sehbehinderte, LEGO®BRAILLE BRICKS, Susanne Reith